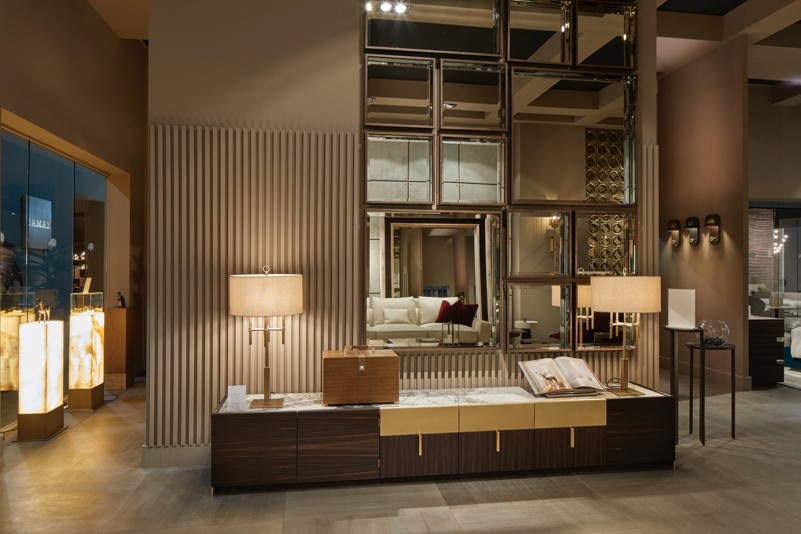 Nowadays, a mirror is not just a thing nobody can do without it has become an important element of any interior design. That is why, Bellavista Collection, the brand that specializes in producing Italian luxury furniture, offers a great variety of looking glasses. They do differ in size, form, and style so that every customer can pick the most suitable one for their home.
It couldn't be otherwise: an average residence usually has more than one mirror. We place them in bathrooms, bedrooms, walk-in closets, and entrance halls… So, it's no surprise that several looking glasses, belonging to the same person, will look quite unlike one another.
If you browse through images and descriptions of Bellavista's looking glasses, you'll instantly notice how different they are. Round, oval, rectangular, and square, with their size varying from rather small wall, mirrors to huge floor ones, large enough for you to see yourself from head to toe. These mirrors could be with or without frames, which in their turn vary from thin, almost invisible to pretty thick – for example, wooden ones, hand-carved or upholstered in leather or fabric. Also, a mirror frame could be composed of details made of different materials – for example, look at PASCAL's, which surely will greatly contribute to your home décor.
What is more, the Bellavista brand uses reflective mirror glass as an excellent material for decorating various items, such as furniture pieces or boiserie. Here are just a few examples. TUDOR and ZEUS bar units have mirror glass inserts at their inner back walls. RIFLESSI, which is available upon request, seems to be a cross between a mirror and boiserie. Multiple pieces of smoked and clear mirror glass, brought together in a metal frame, beautifully reflect light, and the interior of the room looks charming indeed.
One more impressive example of using mirrors as parts of wall decoration was showcased during the recent trade exhibition – the Salone Internazionale del Mobile, which took place this June.
Mirrors and Mirror Glass Details at iSaloni 2022
Let's touch upon several mirrors, displayed at the Salone Internazionale del Mobile earlier this year. Bellavista's exhibitor booth looked like a luxurious apartment, furnished with showpieces. The brand adopted this approach to displaying its items a decade ago – in 2012.
At this edition of the Salone del Mobile, the brand's booth was divided into the following parts: a living room zone, a bedroom zone, a dining-room zone, a conversation area, and a walk-in closet. The latter was this year's novelty: created shortly before the event, it was named TROUSSE.
The wardrobe module of TROUSSE can be a great example of a design solution that included a mirror: its doors' outer surface is covered with a large looking glass.
An oval wall mirror GRIMILDE was hung on one of the walls in the booth. GRIMILDE's thick frame was upholstered in the velvet of pleasant-looking mustard color. This mirror is rather sizeable: it's 2 meters (78.7 inches) from top to bottom and 110 centimeters (43.3 inches) wide. So, GRIMILDE will be a good pick for a large room.
By the way, if you feel like buying this mirror, you'll have plenty of choices: its frame could be upholstered in either leather or fabric, and the number of colors offered for both options is pretty large – and constantly growing.
And, last but not least, at that exhibition you could see a number of  VASCO mirrors applied in a somehow unusual way: they were turned into decorative elements for the wall.
If you look at VASCOs description on the brand's online catalog, you'll find out that this mirror could be either square (with two size options available) or rectangular. Also, this elegant-looking glass has a frame, made of smoked mirror, with its edges in solid dark-stained walnut.
Attilio Zanni, Bellavista's brilliant designer, the head of the brand's design department (and the co-founder of the brand itself, by the way) used VASCO mirrors as building blocks to create a remarkable wall decoration. Such a non-trivial design solution was displayed in the living room area, where the TV cabinet named MILANO was placed. Mirrors covered the entire wall above the cabinet, reaching up to the ceiling.
Among other furniture pieces, located in this zone, were coffee tables named ALCOBAS and CHAMPIGNON; APOLLO and SHENZHEN side tables; CARLOTTA sofa, ISABELLA floor lamp, RITZ console, FILOMENA armchair, and many other interesting pieces. All of them perfectly harmonized with one another – in spite of the fact that some of them were originally designed back in 2019 (ALCOBAS) and even 2018 (RITZ, SHENZHEN, and FILOMENA).
Mirrors: Habitual Luxury
And now please take a break and remember how many mirrors you have at home. One, two, three, four… Do you know that if you have just a couple of glass mirrors, you are richer than most of the monarchs a few centuries ago were? At those times, mirrors could well cost their weight in gold – in the direct sense.
It was not until the 19th century that mass production of mirrors became possible. Back in 1835, Justus Von Liebig, a famous German chemist, invented the technology of applying a thin layer of silver onto the back of a sheet of glass. Thanks to this process, called 'silvering', mirrors became much easier and cheaper to produce, finally turning from a luxury into a commodity. Although now a good share of mirrors is made using aluminum rather than silver and the technique changed drastically, we should thank Von Liebig anyway. His invention gave us the opportunity to buy as many mirrors as we want.
And if you value the top quality and excellent design of any item you own, you are welcome to visit the website of Bellavista Collection.
Simply choose PRODUCTS from the main menu, then go to the HOME DÉCOR product category. It is split into three sub-categories, one of which is called MIRRORS. Here you can find a cherry-picked selection of mirrors, remarkably diverse yet equally beautiful.
Related Posts